Description
For medical professionals looking for an efficient, organized way to track medical information, medical ringbinder charts are the perfect solution. Not only are medical ringbinders designed to fit perfectly into the medical office setting, but they also offer amazing features and benefits that make them truly indispensable. With medical ringbinder charts, medical records can be quickly identified and accessed when needed. Sheet protectors keep important information clean and safe from wear and tear, and customizable dividers allow staffers to easily create and categorize charts. Finally, medical professionals can rest assured that all of their vital medical data is secure with these top-of-the-line medical ringbinders!
Scratch Resistant Durable Plastic Binders
Premium Grade Ring Wires Stand Up to Daily Use
Ideal for Labels and Custom Imprinting
5-Year Limited Warranty

The ringbinder has a scratch resistant textured surface with debossed area on the spine and upper and lower front cover - perfect for labels or custom imprinted logos. The premium grade ring wire is designed for outstanding durability. Comes with a limited 5-year warranty.
Note: Not all sizes and orientations available in all colors.
Binder spine widths may vary slightly in width.

SPECIAL ORDERS
If a combination is unavailable you may be able to special order in quantities of 360 or more.
Please contact us for details CUSTOMERSERVICE@FIRSTPRODUCTS.COM.

All Discontinued items are limited to the quantity on hand, no returns or warranties provided for discontinued items.
For Custom Ringbinder Imprinting Orders
Please Click to Download our PDF Custom Imprinting Order Form.
Complete the form and email or fax to us at 1-800-542-7225 to order.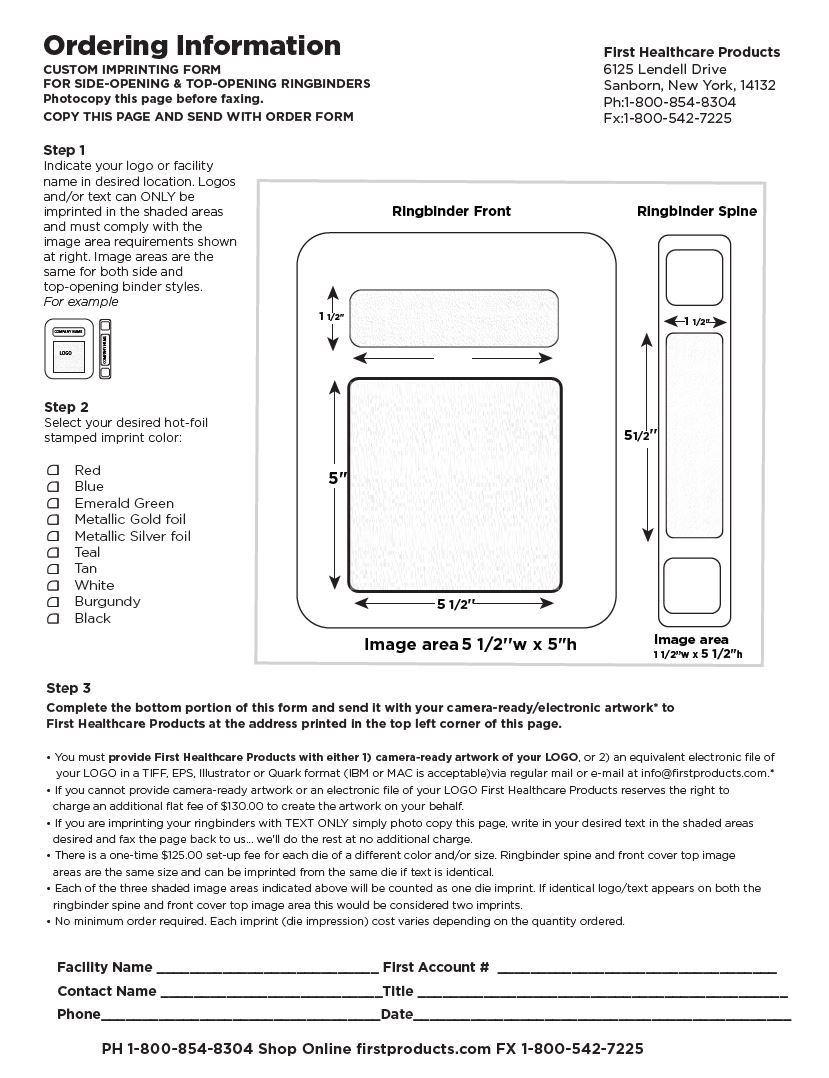 Warranty Information
5-Year Limited Warranty
Specifications
Material:
First Antimicrobial Poly Molded
Paper Capacity:
Holds up to 250 8 1/2" x 11" pages
Contact Us
Interested in learning more about this product or have questions?
Contact Us
Close
Fill out the form below and we will get back to you.
Recommended Accessories